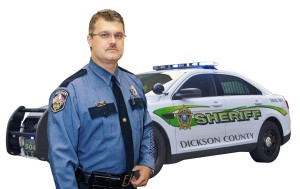 Sheriff Jeff Bledsoe began his career in law enforcement in 1986. He soon graduated from the Tennessee Law Enforcement Training Academy class 516 the same year. He was elected to his first four year term in August 2010. He was re-elected to a second four year term in August of 2014.
Sheriff Bledsoe has over 27 years of service in the law enforcement profession. He has served in numerous positions to include: deputy sheriff, patrolman, field training officer, corporal, D.A.R.E. instructor, detective, narcotics detective, state agent, and special deputy U.S. Marshal.
Sheriff Bledsoe has received extensive training over a 27 year law enforcement career including classes through the F.B.I., T.B.I., and St. Petersburg Community College, U.S. Department of Justice, National Sheriffs' Association, Tennessee Sheriffs' Association, and National Sheriffs' Institute.