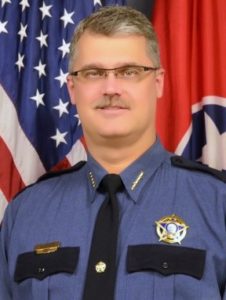 EXECUTIVE BIOGRAPHY
Jeff Bledsoe stands at the forefront of law enforcement leaders having received extensive training and hands-on experience during his 33 year career. Serving in his third term as Sheriff of Dickson County, he was named Tennessee's Sheriff of the Year by his peers in 2018; he was recognized by the 111th Tennessee General Assembly with a Senate Joint Resolution honoring him for being named Sheriff of the Year; and received the National Law Enforcement Officer of the Year Award, from the Buford Pusser Home and Museum, earlier this year. NAMI Tennessee presented Sheriff Bledsoe with the 2019 Justice Award for his work in the area of mental health illnesses and transports.
Sheriff Bledsoe was presented the CASA (Court Appointed Special Advocates) Champion for Children Award July, 2019; received The State of Tennessee 2019 Voice for Victims Award; honored with the Leadership Dickson County Emerging Leader Award in 2014; and recognized with the Governor's Highway Safety Office Lifesavers Conference Director's Award in 2013.
Sheriff Bledsoe was invited by FAIR to represent the United States in both 2018 and 2019, to participate in meetings in Washington, D.C., on immigration reform. Selected to represent Tennessee, he attended Diversion Opioid Training Class conducted by the Drug Enforcement Administration, in Quantico, VA, in 2016. He has received the Federal Bureau of Investigation's LEEDA Leadership Trilogy Award, and is a graduate of the 105th session of the National Sheriff's Institute.
Sheriff Bledsoe proudly serves the Tennessee Sheriff's Association as Chairman of the Mental Health Transport Committee; Vice-Chairman of the Training and IT Committee; Vice-Chairman of the Legislative Committee; and as a member of the Scholarship, and Executive Search Committees.
Additionally Sheriff Bledsoe serves his local community as an Executive Board Member for the Drug Free Coalition, Tennessee Dangerous Drugs Task Force, and Tennessee Alliance for Drug Endangered Children; and on the Board of Directors for the 23rd District Drug Task Force, and the Humane Society of Dickson County.
Jeff is a car and motorcycle enthusiast who enjoys being a spectator at his daughter's sports games and competitions. Jeff still enjoys being on the front lines answering calls in Dickson County where he and his wife, of 24 years, Jenny have raised their son, a college student, and daughter, who attends middle school.